NO TIME TO KILL! A TIME TRAVELLING MURDER MYSTERY
April 13, 2019
6:30 pm
(Doors:

6:30 pm

)
Ages 6 and Up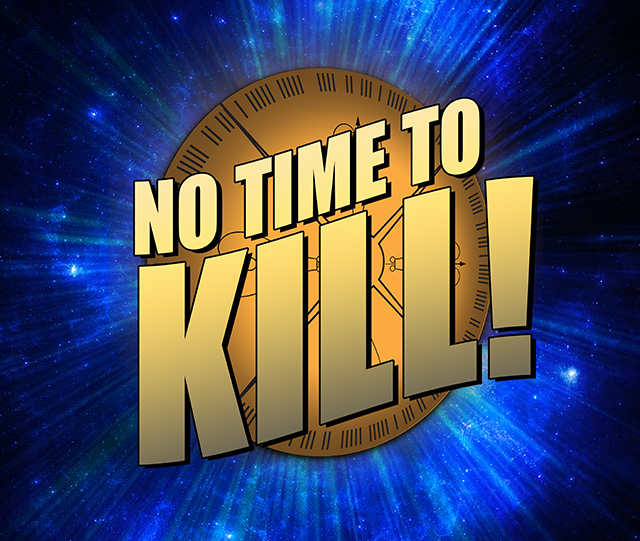 CAD55.00 - CAD119.00
NO TIME TO KILL! A TIME TRAVELLING MURDER MYSTERY
(at the Chelsea Hotel: 33 Gerrard St. West)
Join us at the Chelsea Hotel for the Scientific Symposium on Time Travel as we count down the seconds until the arrival of Professor Chronos and the unveiling of his time machine. But when Professor Chromos ends up dead and the time machine goes missing, there's no time to lose! Luckily Sherlock Holmes and his trusty partner Dr. Watson are on the case. Together they must unravel the mystery before it's too late!

But, when the guest of honour fails to arrive, what begins as a celebrity-studded birthday bash quickly turns into a case of… Murder!
The action begins when you notice some colourful characters enter the room. Then, someone you've just met dies... or a body is discovered. A detective leads the investigation. The suspects are spread throughout the room, sitting right at the tables with you. So, you get to participate and see if you can solve... whodunit?!
Guests celebrating special occasions can even be included in the mystery for a few extra laughs (please call Box Office at 416-486-7469).
Join the fun as you participate to solve a hilarious whodunit at the Chelsea Hotel (Mountbatten Room) with Mysteriously Yours Dinner Theatre, Toronto's only interactive murder mystery dining experience!
Dinner& Show (arrive at 6:30 pm) - $119.00
- includes a delicious buffet Dinner at the Chelsea Hotel (Mountbatten Room), coffee/tea, the Murder Mystery, applicable tax, and gratuity on the meal.
Show ONLY (arrive at 7:30 pm) - $55.00
- includes Mystery Onlyat the Chelsea Hotel (Rossetti Room), applicable tax.

Special Dietary substitutions are available upon prior request. Minimum 5 days notice prior to event date. Please notify Box Office at 416-486-7469.
For guests celebrating special occasions, please notify Box Office at 416-486-7469.
To be seated with other guests, please call the Box Office.
All prices listed include tax and gratuities. Ticket web's convenience service charge will be added at check out.
For more information on Mysteriously Yours Dinner Theatre including the performance's menu, directions, and frequently asked questions, please visit us at www.MysteriouslyYours.ca or call (416) 486-7469.
Please Note: the Chelsea Hotel is an accessible facility located in Downtown Toronto.
Paid parking is available - Additional Charge.
*** Mysteriously Yours Dinner Theatre does not issue or require physical tickets. On arrival, please give the Host the last name of the reservation.
*** Ticketweb advises guests to arrive 1 hour prior to show-time; this is not required at Mysteriously Yours. Seats are pre-assigned and reserved. Please arrive at the appropriate time outlined above.